ICND1 – Basic Questions 2
Question 1
Explanation
Only a router or a Layer 3 switch can mitigate a broadcast storm because they separate broadcast domains -> B and D are correct.
Question 2
Explanation
AREA 1 has "multiple collision domains" so Network Device A must be a device operating in Layer 2 or above (a router or switch) -> A & E are correct.
AREA 2 only has "single collision domain" so Network Device B must be a device operating in Layer 1 (a hub or repeater) -> D is correct.
Question 3
Explanation
The "Ctrl-Shift-6" and "x" is used to suspend the telnet session. In this case, the telnet session from Router1 to Router2 will be suspended.
If we enter the keyword "resume", Router1 will try to resume the telnet session to Router2 (you will see the line [Resuming connection 1 to 192.168.9.2 … ]) and we will get back the Router2> prompt.
Question 4
Explanation
In the topology above only routers and switches are used so for each link we have one collision domains. In the picture below each pink ellipse represents for one collision domain.
Question 5

Explanation
Star topology is the most popular topology for the network which allows all traffic to flow through a central device.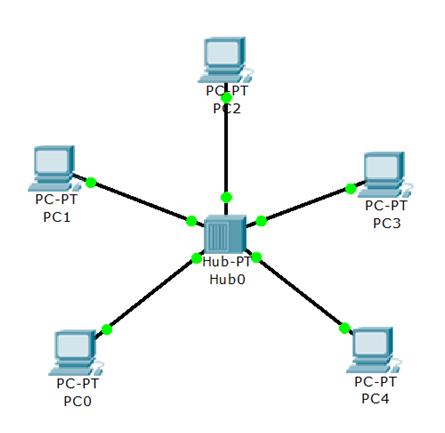 Question 6

Question 7

Explanation
Carrier Sense Multiple Access with Collision Detection (CSMA/CD) is the LAN access method used in Ethernet. When a device wants to gain access to the network, it checks to see if the network is free. If the network is not free, the device waits a random amount of time before retrying. If the network is free and two devices access the line at exactly the same time, their signals collide. When the collision is detected, they both back off and wait a random amount of time before retrying.
CSMA/CD is used with devices operating in half-duplex mode only. CSMA/CD helps devices connecting to half-duplex switch ports operate correctly.
Question 8

Explanation
Ethernet frame size refers to the whole Ethernet frame, including the header and the trailer while MTU size refers only to Ethernet payload. Baby giant frames refer to Ethernet frame size up to 1600 bytes, and jumbo frame refers to Ethernet frame size up to 9216 bytes (according to this link: http://www.cisco.com/c/en/us/support/docs/switches/catalyst-4000-series-switches/29805-175.html)
For example, standard Ethernet frame MTU is 1500 bytes. This does not include the Ethernet header and Cyclic Redundancy Check (CRC) trailer, which is 18 bytes in length, to make the total Ethernet frame size of 1518.
So according to strict definition, MTU size of 1600 cannot be classified as baby giant frames as the whole Ethernet frames will surely larger than 1600 -> Answer C is not correct.
Answer D is a better choice as the MTU is 1518, so the whole Ethernet frame would be 1536 (1518 + 18 Ethernet header and CRC trailer). This satisfies the requirement of baby giant frames "Baby giant frames refer to Ethernet frame size up to 1600 bytes".
Question 9

Question 10

Question 11
Explanation
To remember which type of cable you should use, follow these tips:
– To connect two serial interfaces of 2 routers we use serial cable
– To specify when we use crossover cable or straight-through cable, we should remember:
Group 1: Router, Host, Server
Group 2: Hub, Switch
One device in group 1 + One device in group 2: use straight-through cable
Two devices in the same group: use crossover cable
For example: we use straight-through cable to connect switch to router, switch to host, hub to host, hub to server… and we use crossover cable to connect switch to switch, switch to hub, router to router, host to host… )
Notice in this question, connecting to the Frame Relay means connecting to another router. Also we must use serial cable (or Fiber Optic cable) because the distance to the Frame Relay is far so we can't use Ethernet cables.
Rollover cable can be used to connect a computer terminal to a network router's console port. This is often used when we turn on the router for the first time.
Question 12

Question 13

Question 14

Question 15
Explanation
Both switch and router separate collision domains. In other words, each port of the switch and router creates one collision domain so we have 15 collision domains in this topology.